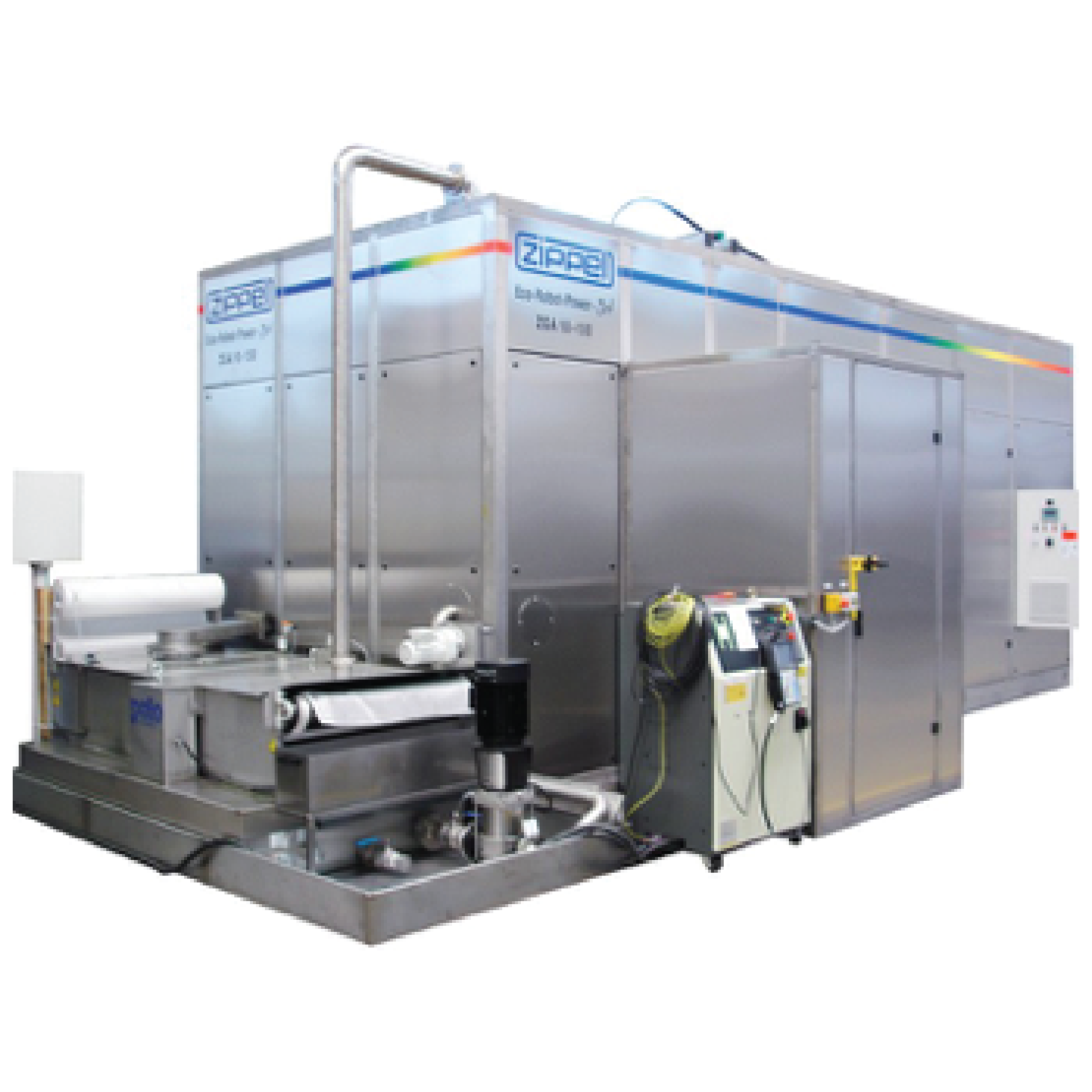 Overview
To satisfy steadily increasing requirements for shorter processing times, Zippel has enhanced the classic multi-chamber system. Machines in the RT Series combine innovative technology with efficient cleaning for parts with the most intricate designs. The RT Series can be integrated with robot systems for loading and unloading as well as a de-burring process to assure the highest levels of productivity with state-of-the-art automation.
Multi-stage cleaning and rinsing processes
Optimum quality robot technology
Flake deburring up to 1000 bar
Integrated medium maintenance system
Short cycle times
The individual treatment chambers are situated atop the rotating turntable. The actual number of chambers depends on the number of treatment steps required for optimum cleaning.
Possible treatment steps
Low-pressure cleaning
High-pressure flake deburring
Rinsing
Flooding
Vacuum and/or hot-air drying
Even mechanical treatment processes such as brush cleaning or brush deburring are possible. If necessary, the downstream outfeed area may be equipped with a cooling tunnel for further cooling of the cleaned parts.
Loading & unloading of the parts is generally done in the same zone. To achieve a high level of positioning accuracy, loading & unloading should ideally be done by a robot or another type of automation solution.  Manual loading is also possible as an alternative. During loading, the parts to be cleaned are automatically fastened in a fixture inside the chamber and cycled through the individual stations, with the parts remaining in the same chamber always. That way, the cleaning machine can continue its operation with the remaining chambers even in case of a failure or deactivation of an individual chamber. The cleaning process is carried out while the chamber is closed. The high-pressure cleaning is done via high-pressure nozzles mounted either inside the chamber or to a robot arm. These nozzles are supplied by a high-pressure pump with just the right amount of pressure for the various parts.
Through optional moving of the part (e.g. rotating, swiveling, positioning, etc.) and/or the robot arm, both the three-dimensional contours of a workpiece and the boreholes can be targeted in a very precise manner. Hence, complete coverage…
Selection of the most suitable drying method depends on the part design and its desired final dryness. All process media used in the machine are filtered and reintroduced into the circuit, with filtration fine-tuned to residual-dirt requirements.