Learn about various technologies to extend your washing products.
---
The Eco-Sep™ was developed in order to extend the service life of the cleaning mediums and thus reduce operating costs for filters and chemicals. Oil separation using a plate phase separator guarantees optimum operation as a result of continual oil extraction from the surface.
With the aim of making our machines as environmentally-friendly as possible and increasing the benefits for our clients, we can extend our machines with a waste water treatment system especially adapted to the cleaning system.
Function description
The Eco-Sep™ oil separator specifically developed by us is a highly effective gravity oil separator designed to separate the liquid phases of water-in-oil emulsions through coalescing action. For that purpose, the surface of the washing medium contained in the tank is siphoned off via a floater fed by a pump to the Eco-Sep™ working in the bypass. While in the oil separator, the washing medium is forced to flow through the coalescing phase. The separator is comprised of several maintenance-friendly inserts, each of which consists of roof-shaped angle plates with perforated top surfaces stacked tightly above each other. While the liquid flows through the separator, the fine oil droplets which float on top due to their density difference are accumulated. This action results in a defined phase separation. The upper oil phase is removed to a collection tank whereas the bottom water phase is recycled back into the cleaning tank.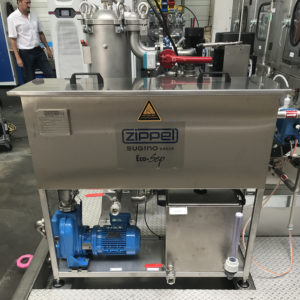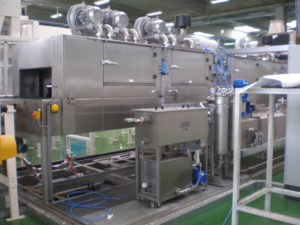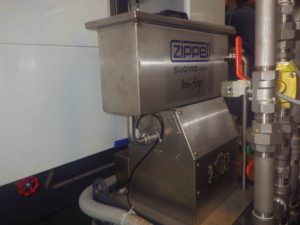 Dimensions - circa values
| | | |
| --- | --- | --- |
| | Eco-Sep™ 100 | Eco-Sep™ 200 |
| Length x Breadth x Height | 1.060 x 350 x 934 mm | 1.060 x 480 x 1.187 mm |
| Weight | 160 kg | 200 kg |
| Electronical drive | 400 V – 50 Hz | 400 V – 50 Hz |
| Pump performance | 100 l/h | 100 l/h |