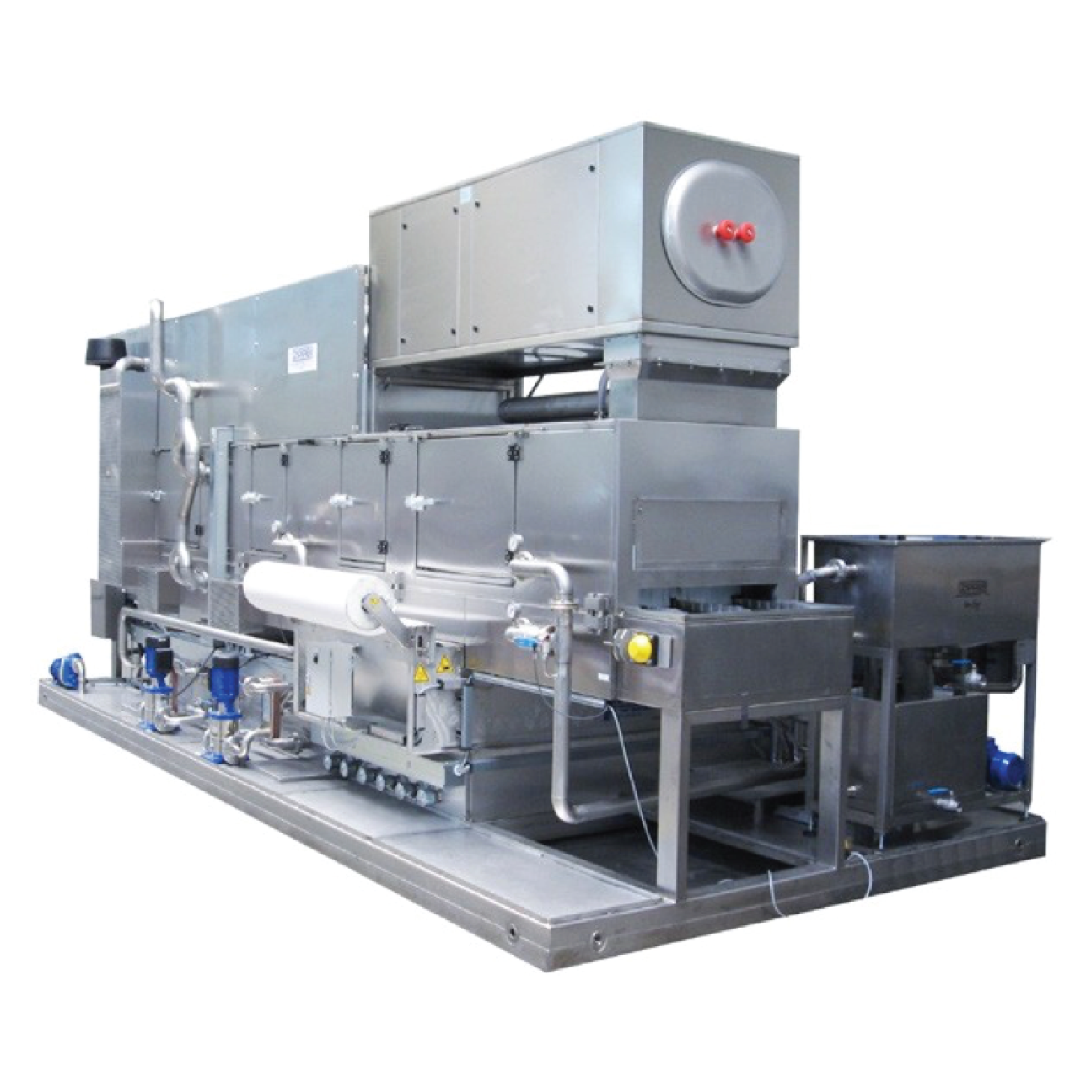 Overview
The ZD Series is our innovative response to the increasing diversity of parts requiring conveyor, chain, or fixtured in-line washing systems. Zippel through-feed cleaning machines can be custom-fit to any production line with fixed speed, variable speed, or indexing conveyor drives. Cycle time can be adjusted to the operations before and after the wash process to maximize productivity with minimal additional handling of parts.
Multiple wash and rinse stations possible

Automatic loading possible

Noise insulation enclosure

Programmable cycle timing

Reverse conveyor drive

Variable conveyor speeds

Product carrier conveyor system adapted to parts
The parts to be cleaned are delivered to the tunnel cleaning machine either manually or by an automated system. The goods to be washed pass through the consecutive treatment zones either continuously or indexed cycles.  Even integration into an existing conveyor system is possible. Also, special designs executed as so-called O or U type designs, where the loading and unloading positions do not have to be in line, are available upon customer request. Multiple line designs for increasing throughput rates or cleaning different types of component shapes are likewise available.
Available treatment steps
Cleaning and rinsing
High-pressure cleaning
Flake deburring
Passivating
Distributor-type injection water rinsing
Cooling
During cleaning and rinsing, pressure is applied to the parts by spraying action.  High-pressure cleaning is carried out by the high-pressure nozzles integrated in the high-pressure zone, where available. These nozzles are supplied by a high-pressure pump with just the right amount of pressure for each component.  The high-pressure nozzles apply pressure to the part in a precise manner and therefore ensure flake-free results after cleaning. Even purely mechanical treatments like brushing are possible (in the brushing zone). The cleaning media are heated to the required cleaning temperature, which is kept constant throughout the entire duration of the process, either by electrical heat (immersion heaters) or by technical heat using heat exchangers (hot water, thermal oil, gas heater, etc.).
Selection of the most suitable cleaning and drying method as well as of the most suitable handling system depends on the types of parts processed, the cycle times, the volumes to be cleaned, and their required final condition.  Intermediate zones serving as neutral zones or blasting zones for the reduction media carry-over are integrated in the system.
Additional treatment zones will be designed commensurate with customer requirements. All process media used in the machine are filtered and recycled into the system, with filtration fine-tuned to residual dirt requirements.  After completion of the treatment, the workpieces are ready for pick-up and/or further transport.  Unloading of the parts can be done either manually or by an automated system.