Wet Pulverizing and Dispersing Device
The solution for super fine particles.
The "Star Burst" is a wet-type pulverizing - or wet jet milling - device to disperse, emulsify, pulverize, and reform surfaces of raw materials by obliquely colliding the particles pressurized up to 245 MPa at the relative velocity of Mach 4 .
Features
Minimum Contamination
Star Burst does not use any grinding media, resulting in a minimum amount of contamination.
Homogenized Particle Size
Uniform particle with narrow particle size distribution can be achieved by controlling the injection speed of raw material slurry.
High Pulverizing Capability
Nano-level pulverizing or dispersing is effectively achieved in a short period of time without short path of raw materials.
Various Applications
This device is capable of pulverizing raw material slurry with a viscosity of up to 5,000 MPas or up to 50 wt%. Slurry with hard particles is also applicable, by using our original sealing structure and nozzle made of single crystal diamonds.
Download Product Information
Battery materials, ceramics, metals, magnetic materials, capacitors, CMP slurry
Emulsion, skin lotions, UV protection, perfumes
Injections, liposomes, cream, sterilizers
Toner, color filters for liquid crystals, printing inks, paint
Resins, plastics, polymers, waxes, fats, and oils
Aroma chemicals, calcium, antioxidants, food additives, functional beverages
Explore the Star Burst Lineup
---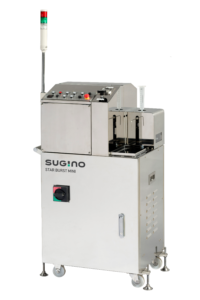 Ideal for the R&D of super fine particles and emulsions. This model is suitable for reseach and development in the nano-field.
Star Burst Mini is a wet-type micronizing device to disperse, emulsify, comminute and delaminate particles by collision into a ceramic ball using pressures of 245MPa (2.450 bar or 35,525 psi).
Star Burst Mini  is the ideal partner in the development of cutting-edge, high value materials with extremely small material preparations with maximum yield.
■ Throughput: 5-6L/hr
■ Dispersing, Milling, Emulsifying and Delaminating
Key features
Ideal for valuable materials 
Required sample volume is minimum 20mL.
Minimum Contamination
Star Burst does not use any grinding media and provides products with the minimum amount of contamination.
Sanitary design
Star Burst Mini can be easily disassembled and washed.
Atomization Mechanism
Example: Carbon Nanotube 0.1 wt%
Carbon nanotube can be exfoliated by high shear force of high-speed water jetting.
Before:
17 μm
Always precipitated
After:
0.15 μm
Always dispersed